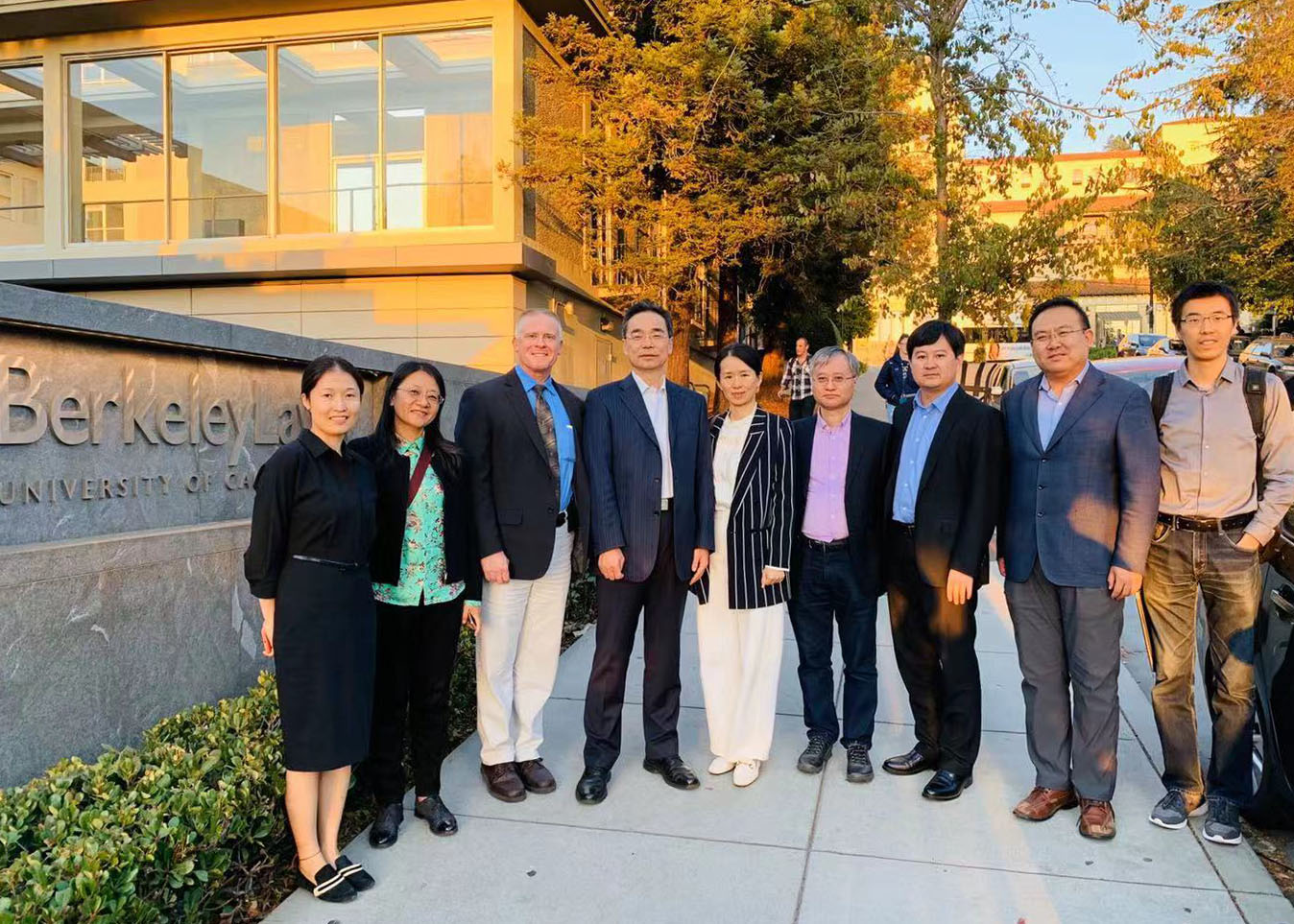 From left to right: Fan Dai, Ming Dengli, CARB Executive Officer Richard Corey, BEE Director General Chen Tian, Li Xiang, Jiang Lin, Liu Baoxian, Liu Xin, and Chao Ding
Berkeley — Kick-starting its work to spur further bilateral climate action, the California-China Climate Institute (CCCI) this week hosted a dialogue between top officials from the Beijing Municipal Ecology and Environment Bureau (BEE) and the California Air Resources Board (CARB). 
The wide-ranging exchange on air quality management and greenhouse gas emission reduction measures took place at UC Berkeley's School of Law and included BEE Director General Chen Tian, CARB Executive Officer Richard Corey, CCCI Director Dr. Fan Dai and others. In addition to sharing information on climate action programs in California and Beijing, the leaders discussed opportunities to expand collaboration on reducing air and carbon pollution, including short lived climate pollutants, and ways to drive further development of renewable energy and clean technologies.
Beijing is currently working to tighten vehicle emission standards, electrify public transportation (with the goal of 100 percent electric taxis in three years), strengthen regional cooperation and improve energy efficiency in the industrial and building sectors. Collectively, California and Beijing are home to more than 60 million people.
The UC-wide California-China Climate Institute was launched in September and is led by former California Governor Jerry Brown in partnership with Xie Zhenhua, China's Special Representative for Climate Change Affairs. The Institute is a UC-wide initiative housed jointly at UC Berkeley's School of Law — through its Center for Law, Energy & the Environment — and College of Natural Resources and is partnering with the Institute of Climate Change and Sustainable Development at Tsinghua University — one of China's preeminent research institutions. The Institute also works closely with other University of California campuses, departments and leaders. Through joint research, training and dialogue in California and China, this Institute will inform national policy makers, foster dialogue and cooperation, and promote the implementation of climate solutions at all levels.
For more information, visit: https://ccci.berkeley.edu/