CCCI Director Fan Dai with Director General Li Gao, Dept. of Climate Change, Ministry of Ecology and Environment
Madrid, Spain — Moving to strengthen bilateral ties between California and China and spur further climate ambition and action, the California-China Climate Institute (CCCI) convened a series of meetings and events over the past week at the world's preeminent climate summit – the United Nations Climate Change Conference (COP25).
CCCI was represented at COP25 by Dr. Fan Dai, the Institute's Director, and Ethan Elkind, Director of the Climate Program at the Center for Law, Energy & the Environment at the UC Berkeley School of Law. COP25, which was held in Madrid, Spain from December 2-16, 2019, was organized to bring the world together to consider ways to strengthen the implementation of the Paris Agreement and build ambition ahead of 2020, the year in which countries have committed to submit new and updated national climate action plans.
At COP25, CCCI and the Nature Conservancy convened the official California-China delegation meeting and reception, where top officials from China and California, including the secretaries of California's Natural Resources Agency and Environmental Protection Agency (CalEPA), agreed on the importance of further subnational action to achieve the Paris Agreement's goals. Both sides also committed to continue working together on key policy areas, including: zero-emission vehicles and clean transportation, carbon pricing, nature-based climate solutions and climate adaptation, and clean energy technology.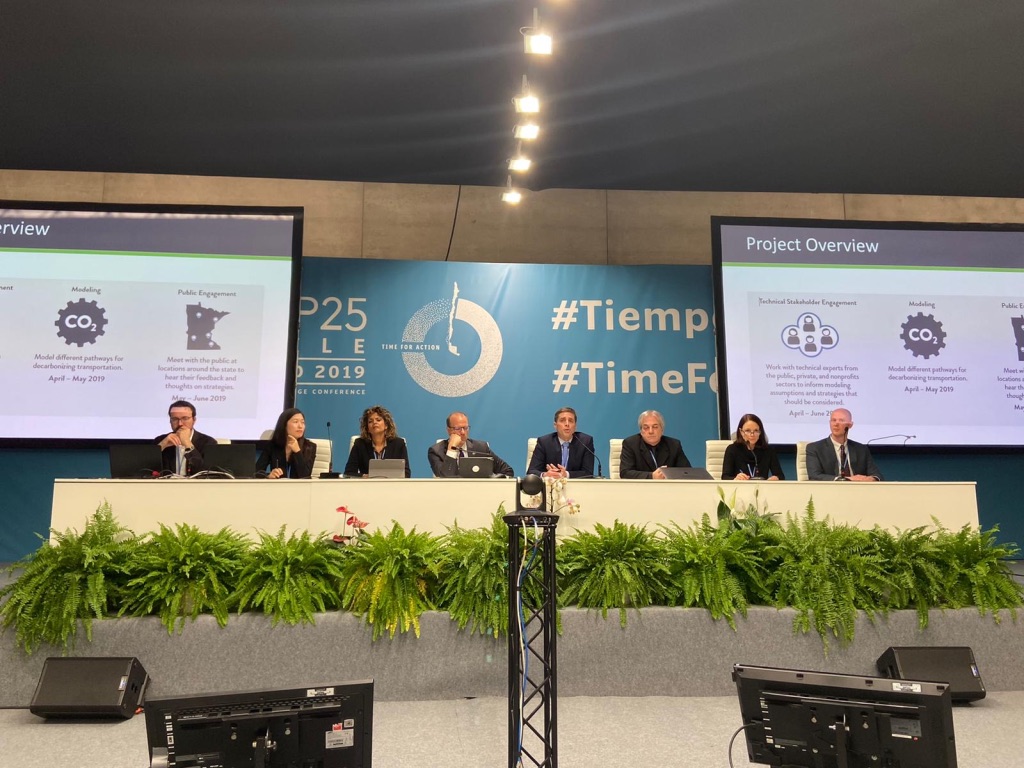 Panel discussion of subnational efforts to reduce carbon emissions from the transportation sector
Additionally, CCCI discussed opportunities for further climate collaboration with leaders from its partner institution in China – the Institute of Climate Change and Sustainable Development at Tsinghua University – and with one of China's leading climate officials, Director General Li Gao with the Department of Climate Change in the Ministry of Ecology and Environment. 
CCCI also participated in events at the U.S. Climate Action Center and the China Pavilion, focused on China's national carbon market and efforts at the subnational level to reduce transportation emissions and accelerate action and strategies from U.S. states to cut carbon pollution.
The UC-wide California-China Climate Institute was launched in September 2019 and is led by former California Governor Jerry Brown in partnership with Xie Zhenhua, China's Special Representative for Climate Change Affairs. The Institute is a UC-wide initiative housed jointly at UC Berkeley's School of Law – through its Center for Law, Energy & the Environment – and College of Natural Resources and is partnering with the Institute of Climate Change and Sustainable Development at Tsinghua University – one of China's preeminent research institutions. The Institute also works closely with other University of California campuses, departments and leaders. Through joint research, training and dialogue in California and China, this Institute will inform national policy makers, foster dialogue and cooperation, and promote the implementation of climate solutions at all levels.